New Credo Resources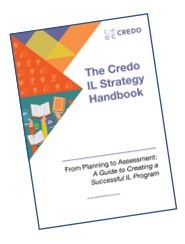 Third Installment of Credo's IL Strategy Handbook Released

Credo has released the third installment of our IL Strategy Handbook (view it here), a free online publication that covers how to plan, implement, and improve an IL program. This section covers how to use assessment data to make positive changes to your IL practice, with existing releases addressing how to market an IL program to students and faculty and how to set your program up for success. Register here to receive the final version of the full handbook, scheduled for release at the end of the year.
---
Marketing Your Credo Resources
Introducing Instruct to Faculty? Use our Slides!
If you're preparing for a faculty institute or other event where you have the chance to present library resources, we have created a PowerPoint that you can use to introduce Credo's Instruct multimedia. The slideshow (PowerPoint and Google Slides versions are below) lets faculty know how teaching IL can benefit them, discusses what Credo Instruct offers, and describes how to use it in an online class.
Credo Instruct Faculty Presentation: PowerPoint Version
Credo Instruct Faculty Presentation: Google Slides Version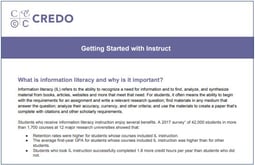 Getting Started with Instruct
Give this "Getting Started with Instruct" flyer to your faculty to help them understand the importance of information literacy and how Credo's resources can help them save time in the classroom and impart fundamental skills to their students.
Example Curriculum Mapping of Instruct Multimedia
How can the multimedia included in your subscription match your institution's curriculum? See our curriculum mapping suggestions for ideas of where to use Credo's videos and tutorials so that they can best match with common learning outcomes.
Instruct Multimedia Aligned with Research Assignment
Get Credo's material working for you by using the multimedia in an assignment. This handout gives you a head start by showing how Instruct's videos and tutorials can help students to complete an annotated bibliography assignment over several weeks.
Questions? Please contact us at support@credoreference.com