Attendees will also learn about how to utilize Credo in instruction for maximal effect by:
Incorporating Credo Online Reference Service into classroom activities and research assignments
Working with the Mind Map tool to discover related material
Examining how Credo helps teach "Searching as Strategic Exploration" in the ACRL Framework
Helping students use this resource to see how research sits inside a network of other research
Meet the presenter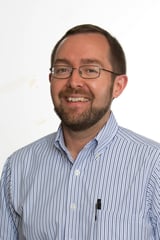 Dan Chibnall
STEM Librarian
Drake University

Dan Chibnall received his MLS from the University of Missouri-Columbia in 2005. He is the STEM Librarian at Drake University in Des Moines, Iowa and has been in that role since July 2016. Prior to that, he served as the User Services and Instructional Design Librarian at Grand View University for ten years. His focus is on embedded librarianship, information literacy skills, science communication, and helping students build more robust research skills & habits. He has presented at numerous conferences over the years on teaching collaborations and integrating research skills into curricula. Dan also currently serves as President of the Iowa Library Association.