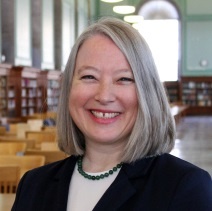 Lisa Janicke Hinchliffe
Professor/Coordinator for Information Literacy Services and Instruction
University Library at the University of Illinois at Urbana-Champaign

Lisa served as the 2010-2011 President of the Association of College and Research Libraries, which launched the Value of Academic Libraries Initiative during her presidency. Along with Debra Gilchrist, Lisa was the lead designer for ACRL's training program for the Standards for Libraries in Higher Education and the IMLS-funded Assessment in Action project. Lisa has presented and published widely on information literacy, teaching and learning, the value of libraries, library assessment, program evaluation, and organizational innovation.